If you want an incredible TV-watching experience with audio and image in high quality, then check out this LG LED television.
Overall, as one of 12 best 28-inch TVs in 2023, LG LJ400B 28LJ400B-PU 28-inch smart TV is a pretty good choice.
Many claim this TV delivers decent, great pictures in every frame and nice sound as well. The setup is easy and navigation has no difficulty. For the price, you'll get impressed with how vivid the picture is on such an affordable set.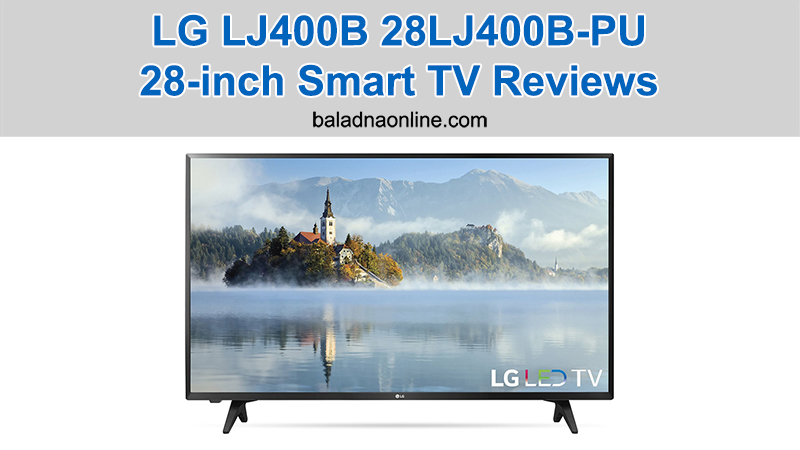 Greatly, this 28LJ400B-PU model enables to play all kinds of video files off via the USB port and also supports many different types of formats, such as MKV, MP4, etc.
The only negative is probably the sound.
Although it's not terrible, it's not good either. When it comes to the sound quality, LG is definitely not as good as Samsung even if their sound adjustment has been improved.
Features:
Triple XD engine helps process images with greater precision for natural color expression and deep contrast in advanced
The 28LJ400B TV has a compact size (27.5") that fits perfectly for a small living room, bedroom or dormitory
It delivers quality HD images in 720p resolution
The LED performs well in any lighting condition, even providing plasma-like deep blacks and rich colors
Featuring two 5W speakers, LG LJ400B guarantees amazing TV sound
Inputs: 2 HDMI, 1 USB, 1 RCA AV, and a Coaxial cable port
The wide 178° viewing angle offers a clear picture for consumers to enjoy from multiple angles
Why Should You Get LG LJ400B LED HDTV?
#1: Design
Look for a small television?
Well, this LJ400B model is designed with a very compact display size. Therefore, it can be placed ideally on the desk, in your bedroom or kitchen.
If you just see the television in the photo, you may think that its stand seems a little flimsy; however, from my experience, the plastic feet are actually much sturdier than I supposed to.
Overall, the manufacturer gave the 28LJ400B-PU a simple and basic design.
#2: Picture Quality
This smart TV features HDMI (High Definition Multimedia Interface), which offers mind-blowing video and audio quality as well as single-cable convenience. The attached HDMI inputs allow you to access true high-definition sources for entertainment content, such as the PC, Bluray player, or video game console.
With the LED backlighting, LG LJ400B provides the picture quality more vivid than ever as it is enriched with colors and deep, true blacks. The clarity of 720p HD resolution is now upgraded on a higher level thanks to this TV.
Enjoy movies and TV programs will be more exciting with realistic colors and deeper contrast.
Of the best 28-inch smart TVs you must buy, this LG LED television is packed with the technology helping save on energy costs, compared to most LCD screens.
#3: Smart functionality
Over the years, LG is still loyal with the WebOS smart platform.
Even though it hasn't changed much, back then it was the best solution. As the world of HDTVs and LCD screens are more popular nowadays, more and more inventions are released to meet the consumers' need. Fortunately, LG's WebOS still remains on the top thanks to its incremental and polishing updates.
Visually, it's quite similar to the initial version launched in the past yet much more stable and responsive. When it comes to slowdown problems, this smart platform rarely happens.
Like any other brand, LG also offers the LG content store in which you will find all kinds of apps for a smart TV. You just need the Internet connection to access Netflix, Amazon, and Youtube.
Watch and learn how to use the WebOS platform on LG Smart TV:
A lot of things for explore!
Wrap Things up
What I like: Excellent option for the price, incredible picture quality, good sound, simple control and understandable remote and easy-to-navigate menus.
What I don't like: Lack of audio outputs and fixed power cable.
Overall, LG LJ400B 28LJ400B-PU 28-inch smart TV is ideal to use as a secondary television or starter TV for children. With a compact size, it fits perfectly in areas of small space.
The advanced features ensure to deliver a more lifelike picture.
Don't mind sending your questions regarding this topic (if any).
Sharing is caring!
LG LJ400B 28LJ400B-PU 28-inch Smart TV 2020 Reviews
Design -

9.2/10

Picture Quality -

9.6/10

Smart functionality -

9/10

Price -

8.7/10