LG 28LH4530 P 720 p LED TV, finding a high-quality television for your living room is a good idea?
Nowadays, there are many options for making choices, from LCD/LED TVs to UHD or OLED TVs – it's up to your preference and affordability.
In case you don't have enough budget or space for a large display, then why don't you go with a small TV set?
LG has offered a standard HDTV which will fit perfectly for every room in your house.
Bragged as one of best 28 inch smart TVs in 2023, LG 28LH4530-P HD LED TV is an ultimate choice for an affordable entry level set.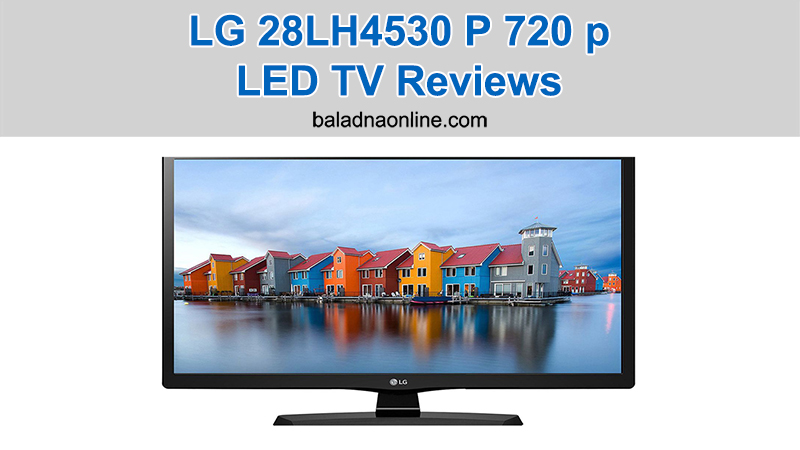 Key features:
The TV comes with a full 720p hi-res display
Featuring Triple XD Engine for color, contrast and clarity enhancement with less blur
LED backlighting delivers amazing brightness, clarity, and color in detail
Capture breathtaking picture thanks to Wide Viewing Angle no matter how you look at it
HDMI performance offers top-quality audio and video quality
Inputs: 1 HDMI and 1 USB ports
You can find most functions of expensive HDTV sets also packed in this LG TV. If you don't prefer a too big screen, then you can totally consider the 28LH4530-P model.
No need to worry about the quality as LG products have actually improved over the years; and with this item, there is no exception.
Continue reading for more information!
Our Thoughts about LG 28LH4530 P 720p LED TV
1. Design and appearance
If you prefer a television with a sleek, smooth design, then LG LH4530-P model is not an option for you.
In fact, this is not an attractive TV set because of its blocky and square appearance. Additionally, it has a quite thick looking frame with the size of over an inch. Well, personally I also don't like the mono-neck stand.
At the first look, you may think the appearance of the LH4530 is more like a monitor. However, the narrow footprint stand helps you save space and is easy to be placed on any flat platform.
Dimensions (W x H x D):
With stand: 25.3″ x 16.9″ x 6.3″
Without stand: 25.3″ x 15.7″ x 2.3″
2. Picture quality
What is the highlight of the 28LH4530-P TV set?
Like the LJ400B model (a product from the same brand), LG's Triple XD Engine is probably the best part of this product. It has performed a really awesome job of smoothing the whole processing and delivering crisp image edges.
Aside from that, I still haven't found any feature worth high points for the picture quality. But, at an inexpensive price, of course you won't feel disappointed with the performance of this LG television.
Colors and brightness are pretty accurate.
For an incredible entertainment experience, you are advised to discover the preset picture mode options (Vivid, Standard, Cinema, Sport, and Game) on the LH4530. Overall, the Cinema and Expert 1 & 2 settings are what I love digging into the most.
Compared to other 28 inch LED TVs, the color saturation of this LG television set is much better due to its ADS panel.
Unfortunately, the not-so-great black levels seemingly get washed out at side angles.
3. Prominent features
HDMI Performance
The audio and video quality of this TV has been improved on a new level thanks to HDMI (High Definition Multimedia Interface). This feature also offers single-cable convenience.
Including an HDMI input, the television allows you to enjoy media content directly from true high-definition sources, such as the computer, video game console, and Bluray player.
Triple XD Engine
With the technology called Triple XD Engine, images are now processed smoothly with much greater precision. This feature guarantees to deliver natural and vivid colors plus rich and in-depth contrast in every frame.
Experience movies or TV programs with more lifelike picture quality!
LED Backlighting
Packed with LG's LED backlighting, the 28LH4530-P 720p LED TV brings on display an exceptional brightness and clarity to the quality of all pictures and scenes.
You'll see richer colors and deeper blacks too.
Besides, this feature helps save the energy greatly compared to all conventional LCD monitors.
Summary
One of the secrets making this HD television set incredible is the resolution.
With the 720p display panel, the picture is delivered smoothly with stable motion, as well as exquisite color and detail. If you are looking for the best 28 inch smart TV in 2023, this one will not disappoint you with its performance.
Once having an experience with LG 28LH4530-P, you'll never want to go back to standard definition.
You can consider purchasing this model for your dorm rooms or to use as a computer monitor due to its nice ADS panel. Also, it has good side angle viewing and low input lag – such an excellent choice for enjoying games.
LG 28LH4530-P 720p LED HDTV Review
Design and appearance

Picture quality

Prominent features