The 75 inch TV seems not realistic to almost everyone.
These days it's not hard to bring home one large-screen 4K TV; however, still many families prefer compact TVs with a screen size of only 28 inches.
With a simple search online, you can see lots of popular brands like Samsung, Vizio, LG, and Sony offer TVs with a 28-inch display panel on the market.
Of course they cannot come with 4K resolution.
But, small TVs are packed with great features, too!
A 4K TV often goes with a price premium due to its high image quality and smart features. For those who already have the streaming device and are unable to afford a costly product, then consider a 28 inch TV with no smart features.
Below are my top four 28-inch TV picks that look perfectly in your home.

Give Samsung H4000 a look when it comes to the best 28 inch smart TV.
This model is ideal for the setting in your living room or bedroom. With the resolution of 720p, the H4000 HDTV has done very well in displaying the clarity and a wide variety of colors, delivering the most incredible TV experience to your favorite movies and shows.
You can easily access your photos, videos, and music using a USB device.
Regular high definition (720p)
Clear motion rate 120
Wide color enhance for excellent picture quality
Eco sensor
Well, Samsung 28 inch smart TV (Full HD) is also available from today!
Here comes TCL Roku Smart TV – the 28 inch model – which assures to deliver all of your favorite media content through more than 450,000 movies and TV episodes accessibly.
This TV has a sleek, modern design and a simple, intuitive interface.
Download the app and you can control the TV right on your smartphone or tablet as a full-function Roku remote. The voice control allows users to browse and add new channels, in addition.
Smart functionality offers
Over 4,000 streaming channels to discover
720p HD resolution and direct-lit LED for great picture quality
60Hz refresh rate avoids motion blur
You may want to check out TLC 32S305 model, the best 32 inch TV, if the 28 inch does not meet your expectation.
3. LG 28LJ4540 Class HD 720p LED TV
The LG 28LJ4540 features eye-pleasing design with a slim look, one HDMI port, and a 28-inch 720p LED screen producing excellent picture quality.
LED Backlighting of the manufacturer gives off exceptional brightness and stunning image clarity. The colors in each scenario looks more natural, richer and deeper in contrast, providing you a real, lifelike feeling.
Plus, this product is based on LG's webOS smart TV platform. In other words, you now can access all major streaming services (Hulu, Netflix, HBO, etc.) with more than thousands of channels.
Triple XD Engine
720p regular HD display with LED backlighting
Refresh rate of 120Hz
4. VIZIO E-Series Class Full-array LED Smart TV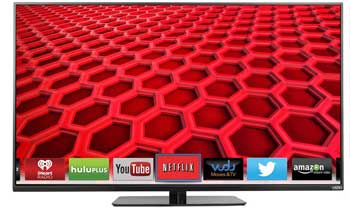 You want a beautifully brilliant 1080p smart TV?
Then I recommend you to consider the VIZIO E-Series 28 inch; this is a good, affordable TV that every family must have for their living room. With innovative features, it delivers incredible beauty and clarity in every pixel.
This VIZIO E-Series smart TV is great for all intents and purposes.
Powered with a faster processor, compared to other previous VIZIO TVs, the E32-C1 model guarantees to bring a spectacular TV experience with high picture quality and enhanced performance.
1080p full HD
60Hz effective refresh rate
Clear action 240
#1 smart TV in 2014
Wrap It Up
Not sure which 28 inch smart TV to buy?
Overall, I've listed out top 4 excellent options that come with brilliant features providing the outstanding image quality. Reliable and appropriate for your budget, these are my most favorite picks out of a large TV selection.
If you don't really like the 28 inch display panel, there are still lots of choices – 24 inch, 29 inch, or 32 inch – for consideration.