Installing apps on your smart TV has become more common nowadays.
The thing is: not many know how to download apps on VIZIO TV. There are actually various methods allowing you to add Kodi and other apps on VIZIO smart TV, but which one is easier and more accessible?
For individuals who've just purchased VIZIO for the first time, you may feel confused and have many questions. In this article, I'm going to provide you tips so that you can accomplish the process easily.
4 Easiest Ways to Install Apps on Your VIZIO TV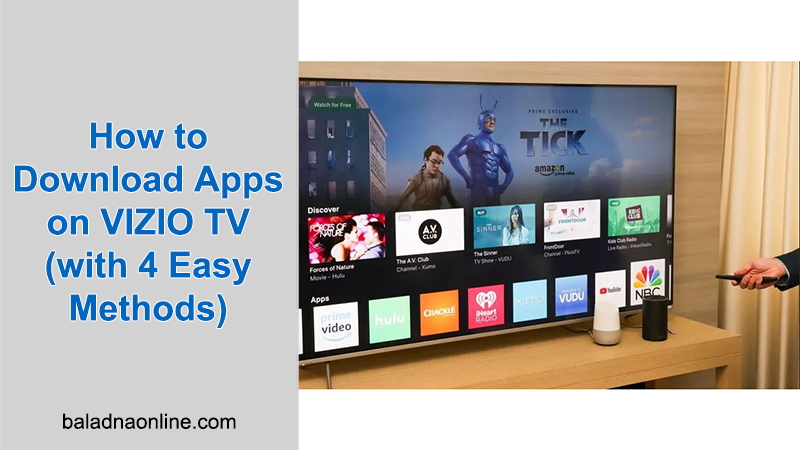 Though it's not really difficult to download apps for VIZIO, it's unknown to most consumers. Like how we install the apps on our phone, you can download them from the app store or by using APK files. Another popular way is to make use of SmartCast available on VIZIO TV. In general, there are plenty of ways letting users to get apps directly on your smart television.
See also: How to clean VIZIO TV screen in the right way?
Method 1: Download apps from app store
As I said, the easiest way to install apps on VIZIO TV is accessing the app store. If you're using VIA or VIA+ TV, then open the built-in app store to perform this quick method.
Make sure your television is connected with Wi-Fi
Tap the V button on the remote control
Select 'Yahoo TV Store' (or the available store) once you see it – note: the name can be a bit different depending on each model
Launch the app store by clicking the OK button
Choose the app desired by going through categories or using the search bar
Hit OK again to highlight your chosen app
Click on the words 'Install App' and select OK on the pop-up
The app will be downloaded automatically and added on the recent on your TV
Method 2: Download apps with SmartCast
If you look for another way, then here are steps to install apps on your VIZIO TV using the SmartCast feature.
Connect both your TV and phone to Wi-Fi
Download VIZIO SmartCast for your Android or iOS device
Allow the app to pair up with VIZIO smart television (with the inbuilt ChromeCast)
Open a certain app or play any video on your Android or iOS device
Choose the CAST icon displaying on the top
Enjoy the content synced from Android or iOS devices on your VIZIO TV
Method 3: Download apps using web browser
In case you aren't familiar with SmartCast, just try with web browser.
Open a browser in any smart device having Internet connection; for instance, it could be your PC
Access Google and search for Google Play Store
Find the app you need to download and proceed to the info page
Click the green button having the word Install on it
A window pops up asking the user to sign up with their Google account
Another window appears with a list of devices' names
Choose the name of your VIZIO smart TV and tap Install
A mini box shows up with a message reaffirming the app will be installed on your television and all you need is clicking OK
Turn on your TV to download the app
Find out if VIZIO TVs have Internet browser with a click
Method 4: Download apps from USB flash drive
In some situations, the app you want to download is not available on the app store; therefore, check this method to know how to use USB flash drive to get the needed apps for your VIZIO TV.
Find the APK file of the app you want to download – note: make sure it's from a trustworthy source
Download it from your PC's browser and copy it to the USB
Connect your USB to the USB port of your smart TV
Open 'My Files App' and click the USB flash drive once you spot it
Search for the APK file you just downloaded and tap on it
Hit 'Install' for the installation process to proceed
Choose 'Settings' once the process is done and then tap 'Applications'
Click on 'Manage Installed Applications' and look for the app installed with the APK file
Click 'Launch Application' to finish
To some older models, VIZIO didn't have the USB port as well as run on Android OS, so you can't use this method.
* Things to remember:
Before trying any of the methods above, remember to verify and note your IP address.
All you need to do is going to Settings and choosing Device; then, clicking on About and tapping Network. Continue selecting the developer option and make sure both options 'ABD debugging' and 'apps from unknown sources' are ON.
What are Different VIZIO Systems?
You need to know this information because not all VIZIO TVs are the same. The process of downloading and adding apps will vary depending on the system of the VIZIO model at your home.
Three current in-use systems are SmartCast, VIA, and VIA+.
2015 and previous years: VIZIO TV features VIA and VIA+
2016 and 2017: VIZIO TV features either VIA+ or SmartCast
2016 and 2017: VIZIO Home Theater Displays (Tunerless) feature SmartCast
2018 and onwards: all VIZIO TVs feature SmartCast
Before doing any installation, you should check the model of your VIZIO and its system as well. You should connect it to your Wi-Fi at home so that it can access all app platforms.
In Conclusion
That's all for the guide of how to download apps on VIZIO TV!
In a nutshell, based on 4 methods suggested above, downloading and installing apps for your VIZIO smart TV is much simpler than what users usually think. As I said, there are many ways, so each of you can decide which method you feel easiest and most convenient to follow.
Also you must check the availability of the sources because there may be slight differences between VIZIO TV models.
Anything to share or ask related to this guide?
For more information, please leave your comments below.