VIZIO smart TVs are always my ultimate choice.
Compared to other options on the market, they are affordable and excellent in performance. These days, most of them have 4K resolution featuring UHD and HDR capacities. Conveniently, you can navigate the television using your phone instead of the remote.
Sometimes the remote for your VIZIO TV suddenly stops working or disappears and you don't want to buy a new one.
Guess what?
Let's find out how to connect VIZIO TV to Wi-Fi without remote in today's article; in fact, you can do anything from your smartphone.
2 Easy Ways to Connect VIZIO TV to Wi-Fi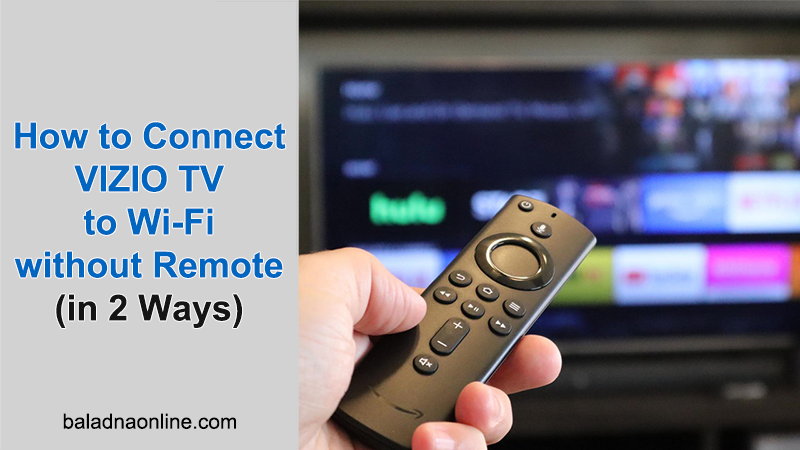 Do you know that there are still many ways to connect your VIZIO TV to Wi-Fi or Internet?
Your experience with a VIZIO smart TV will be on the next level if it's connected to Wi-Fi. We can see plenty of things on the Internet; hence, once your television is Wi-Fi connected, you're able to access to all kinds of content as well as adjust everything as you want.
However, navigating all features on your TV (including connecting it to Wi-Fi) becomes difficult if you have no remote. Without it, smart television can hardly be a true smart television. If you have lost your VIZIO TV remote, the easiest way is to order a new one quickly. In case there's something wrong with it and the television is still within the warranty, you should contact VIZIO customer support team.
Here, I'll tell you two ways to get your VIZIO TV connected with Wi-Fi without using the remote:
In Smart TVs, like Vizio Remote is the main part of the device and without it, you lose access to a lot of features.
Ethernet cable
Universal remote
I. Connecting your VIZIO TV with Ethernet cable
Follow the steps below to connect the television to Wi-Fi correctly:
Firstly, find the Ethernet port on your TV. Take a careful look at the back because it's usually located there in most smart TVs.
The next step is to spot the Ethernet port on your router where you want to connect to your VIZIO TV.
Plug one end of Ethernet cable in the smart TV and another end in the router to create a connection.
Now turn on the television by pressing the power button on the back of the left side of VIZIO TV.
See the set of buttons on your TV? It could be either on the back or on the front depending on the model. If there's no button, then you can't proceed to the next step.
Access the Home Network if you find the buttons.
You will see a small window popping up and asking you to choose the connection type, and all you need is to click Wired Network.
Finally, your VIZIO smart TV has connected to Wi-Fi.
See also: VIZIO TV has Internet browser or not
II. Connecting your VIZIO TV using a universal remote
There's a type of remote that can work compatibly with all TV models, including VIZIO TVs, and that's called the universal remote. You can easily buy a universal remote online and offline. Though many options are available on the market to choose from, most people prefer Logitech Harmony Remotes.
Getting yourself a universal remote and you don't have to order any original VIZIO remote. It can help you connect to Wi-Fi or Internet with no trouble as same as the official one.
Is It Possible to Use VIZIO TV without a Remote?
The answer is yes!
Then how to use it when having no remote?
As soon as your television is Wi-Fi connected, it's time to think about navigating it without a remote. For example, imagine a situation in which you have no original remote and even universal one, then how can you control VIZIO TV?
Have you ever thought about making use of your smart phone?
Like I already said in the beginning, you can control everything on the television with your phone. By downloading VIZIO SmartCast app, your phone works as similar as the remote. From adding to navigating and removing apps on the television, it can be done easily right on your smart phone.
Of course before using the phone, make sure you already connect it to the Internet.
Check out these following steps:
Download VIZIO SmartCast app for your Android or iOS
Open the app on your smart phone and television
Now on the Homepage appearing on the phone, tap the Control button at the bottom
Click on Devices on the top of the right side and you will see a list of available devices popping up
Choose your VIZIO TV from the list to get it connected to the phone
Look at virtual remote showing up on your phone screen and the control menu is on the display
Navigate anything you want including the power control
Swipe to the left to open the movement screen
Also read: Tips to clean your VIZIO TV in a proper way
Final Words
That's all for how to connect VIZIO TV to Wi-Fi without remote!
I hope, from now on, you will find it easier to control your television as well as to solve its problems with ease, whether you have the remote or not. No need to feel worried when your remote stops working all of sudden; well, you can follow the guide here and discover all features on VIZIO TV using your smart phone.
Remember all the devices have to be connected to Wi-Fi from the beginning.
But, I still suggest you purchasing a replacement remote as quick as possible for convenience. Please note: you shouldn't throw away the old physical remote immediately. You need a series of key strokes on it in case the television needs a reset – that's the only way.
For more information about this topic, please leave your comments below.