VIZIO P-Series Quantum X 75" Class Smart TV –
Product Description!
VIZIO P-Series Quantum X 75" Class Smart TV, here we introducing VIZIO's best picture ever Smart TV, what means 74.5″ measured diagonal wise!
Do you know that VIZIO P-Series Quantum X 75" Class 4K HDR Smart TV, delivers the pinnacle of home-theater experiences!
Further more behold cinematic quantum-dot colors, our deepest blacks and brightest bright for captivating contrast, what takes a quantum leap forward in picture quality.
Or contrast approaches perfection as Active Full Array uses 480 zones of local dimming what keep black levels pure. While Ultra Bright 2700 generates fiery highlights, that smolder up to a dazzling 2700 nits.
Because Dolby Vision HDR harnesses the powers of super-bright and pitch-black, producing premium picture quality that pops with detail.
With a 240Hz effective refresh rate, all achieved with backlight scanning, makes motion as silky smooth as it is stunning.
The experience cinematic color intensity as more than 1.000.000.000 colors jump to life.
Advanced quantum-dot technology delivers P-Series Quantum X's broadest, most accurate color range to date, with up to 165% more color than standard 4K TVs*.
VIZIO's Smart Cast 3. 0 is the one-stop smart TV solution that brings you more of the entertainment you love, thanks to Apple Airplay 2 support and Chromecast Built-in.
With Apple Airplay, use your iPhone, iPad or Mac to stream movies, shows, music, and photos from iTunes, Apple TV and other Airplay-compatible apps to the TV.
Browse favorites like Netflix and Hulu right on the TV or enjoy free & unlimited TV from over 150 channels with VIZIO Watch Free .
Streaming, controlling, and sharing has never been easier — no extra streaming devices or remotes needed.
And every P-Series Quantum X makes a great smart home companion, with voice control support for Siri, Google Assistant, and Alexa.
And there is more!
Power On/Off your TV, stream apps, and much more with simple hands-free voice control
Discover an extraordinary picture, all wrapped up in a sleek, precision-crafted bezel-less design to create the most immersive viewing experience imaginable.
Color defined as the color volume measured using Dolby's MDC (millions of distinguishable colors) specification that factors the range of colors and luminance levels; standard 4K HDR TV features rec709 color, up to 300 nits of brightness and no local dimming.
Vizio P-Series Quantum X 75″ –
Basic features is all make better!
In fact there are not new features for the Vizio P-Series Quantum 75″, but the most existing features gave being upgraded what you can see here after!
And if you want to know what a P-Series Quantum 2022 in fact is, well this is a very impressive 4K TV that with a great picture quality!
Further more its use a VA panel and a very good contrast ratio that with a exceptional black uniformity and a lets say excellent color range!
But there are also some issues that we must mentioning, first some with the uniformity and also like for the most users of VA panels… the viewing angles are poor!
We all must know that the Vizio Quantum Color TV has over + Billion various Shades of Colors. So the next generation Quantum Color TV delivers in fact Cinematic Color Intensity that with up to 165% more color than the precedent 4K HDR TVs see September 2019!
2700 Ultra Bright: Delivers bright, detailed highlights up to +600 nits of brightness!
Quantum Color: Compare standard 4K TVs, delivers up to 140% more Color!
Apple HomeKit can be used: control your TV using Apple- Sire- Google home apps!
Apple airplay cab is used: wirelessly Mirror content such as Web pages and presentation!
4K Ultra HD: Till 4 times the Resolution of the 1080p that with over 8 millions pixels!
HDR Dolby Vision: Can display a wider spectrum of colors & detail. Includes HLG and HDR10 content support!
Vizio P-Series Quantum X 75″ –
Top Reasons to Choose P-Series Quantum!
If you analyze all of the features mention in our list below well on first view we
understand that all this features are mostly attractive to on the end make the decision to buy that unit of TV!
But you must and will think twice if you know that accepting a Smart TVs your home you make your home more acceptable for hackers to take over on a easy way your home installation!
That said, on that moment you must take the minimum precaution to make it difficult for Hacker and FBI to get for whatever reason without your knowledge access in your home installation!
So for starters it is needed that you try to know about all of the features what are available on your smart TV and try to know how to control them.
We can also advise you to do an internet search with the name and the series number of your TV using the keywords "privacy", "camera" and "microphone"!
If you have done all describe before it also interesting to go over the following points!
Don't just depend on the default securities settings. If you can change your passwords! Try to know how to turn off Cameras, Microphones and the collection of personal data!
And there is more!
If you not can manage and turn off this features conceder to buy an other TV!
You can also contract directly a private stream company what is better under control for you!
As for the cameras, if you can't turn off, put a piece of black tape on the lens of the cameras!
As for your Smart TV, check the ability of the manufacturer of your TV, to update your Smart TV with security patches and also try to know how often he issue security patches!
Further more check the private policy's of your TV manufacturer and also from your streaming supplier that you are using, try to know what kind of data they collect, how they store it and what they do with it.
Cyber fraud can be reported here to the Internet Crime Complaint Center or you can call your local FBI or POLICE office. Internet Crime Complaint Center
Alone with Quantum Color, You get an extraordinary Color!
The Ultra Bright 1100 are real and profoundly Bright!
The +200 Local Dimming Zones are the real Darkest Blacks!
Has a 4K Detail what is already Exceptional, with 4K UHD + a Dolby Vision HDR!
Your Quantum X is an Award-Winning Smart TV, that together with SmartCast!
With Stream Disney+, Apple TV+ and 1.000 of apps with Apple AirPlay 2 and or use Chromecast built-in!
If you use Netflix, Hulu and Prime Video and more, you can surely enjoy your popular movies and shows!
That as Hands-Free TV, because the Built-In Voice Control!
Vizio P-Series Quantum X 75″ –
Most exciting features highlighted!
Here above you have already the most common features listed, but to get on your attention here after we like to highlight some most remarkable features from Vizio P-Series Quantum X!
Quantum Color
The VIZIO's next-generation Quantum Dot technology, produces more than a billion shades of colors that to create images with the most extraordinary color and detail.
Ultra Bright 3000
The system generates up to +3,000 nits of fiery brightness that produces dramatic highlights surly if you know that standard TVs generate only +300 nits.
HDR High Dynamic Range
As Dolby Vision is installed, who support HDR10 and HLG content; you can enjoy now 4K HDR picture quality from all your favorite entertainment devices.
4K UHD
As your Ultra High Definition delivers a resolution of 3840×2160, what will give you crystal clear images compare with 1080p who are 4x the clarity of before?
Active Full Array®
Our VIZIO's ultra powerful Active Full Array® backlight intelligently what adjusts the backlight for matching what's on the screen, has resulting in deep black levels that with stunning detail and contrast.
Clear Action® 960
The VIZIO P Series Quantum X superior motion clarity using powerful image processing capabilities and a blazing 240 Hz effective refresh rate what result in backlight scanning for fast action movies and sports.
Spatial Scaling Engine™
The enhance HD and Full HD content what appear as Ultra HD resolution after.
Octa-Core Processor
As the brain of your TV is a high-powered Octa-Core Processor, that for less lag in switching activities and or streaming apps.
Cinemawide® Black Bar Detection
This will automatically detects ultra-wide 21:9 movie content and as result will dims the backlight in the top and bottom black bars that for deeper black levels and
Vizio P-Series Quantum 75″ –
Use your voice to control your TV.
Most popular home voice control are Alexa, Google Assistant and Siri.
Your P Series Quantum will make a great smart home companion, with an voice control support for your Alexa, Google Assistant or Siri.
The all on above point makes possible the following actions, power on/off your TV, stream apps and much more with simple hands free voice control.
X 75" 4K HDR Smart TV –
General Product information!
| | |
| --- | --- |
| Customer Rating | 4.1 out of 5 stars (5) |
| Reference Price | From $2,029.18 |
| Sold By | Available from these Sellers |
| Connectivity Technology | HDMI, Wireless, USB, Ethernet |
| Screen Size | 74.5 inches |
| Display Type | LED |
| Item Dimensions | 65.72 x 2.65 x 39.18 inches |
| Item Weight | 78.59 pounds |
| Model Year | 2019 |
| Refresh Rate | 240 hertz |
| Resolution | 4K |
| Total Nr of HDMI Ports | 5 |
5" 4K HDR Smart TV –
If you look, beauty from every angle!
VIZIO Quantum 75″ – A stable TV stand is a whole elevated craftsmanship.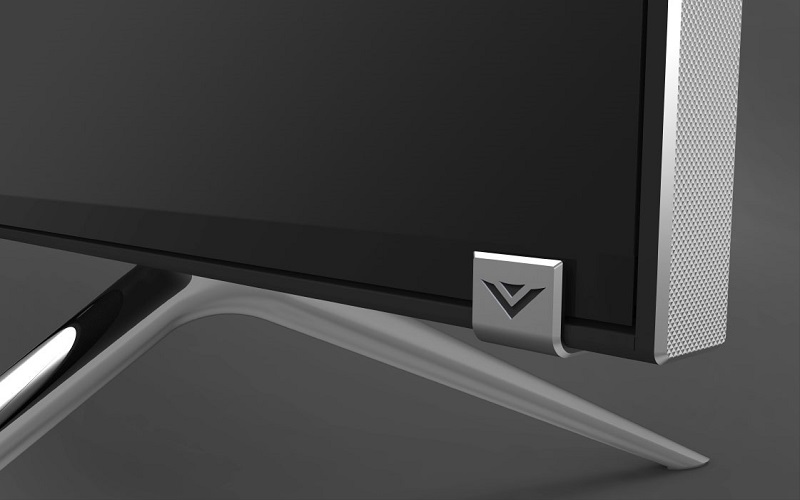 A frame of the new VIZIO Quantum is crafted with distinguished details that encapsulate a whole new viewing experience.
VIZIO Quantum 75″ –
A stable TV stand with Polished Minimalist Legs.
This stable TV stand as seamless foundational element that reinvents the TV as a complement to premium lifestyle design.
VIZIO Quantum 75″ –
This stable TV stand is a real Bezel-less TV Design.
This stable TV stand, is a beautiful 4-sided bezel-less design, that pushes all boundaries for a more immersive experience.
Vizio 75" Class Led P Series Quantum –
Some last words!
Vizio 75′ Class Led P Series Quantum, as you can see here above we have already written a lot of our subject, and nevertheless we like to end with some answers on basic question that the most of us ask and like to know the answers too!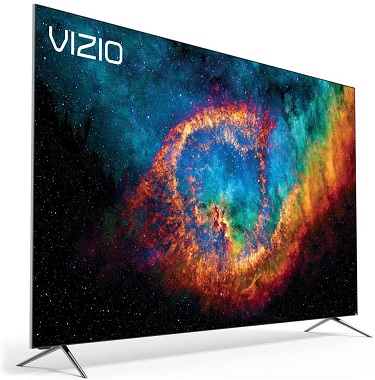 A first question…: What is in fact a Vizio 75 inch P Series Quantum TV 2022!
Vizio 75 inch P Series Quantum TV 2022, this is a very impressive 4K TV who has a great overall picture quality. It is using a VA panel that has an ultimo contrast ratio and especially black uniformity and also an excellent color range.
As like many other brands, Vizio TV has some issues with the uniformity (*) and like the most other brands who use VA panels, the viewing angles are poor!
(*) About the uniformity the problems are so minor, that the ordinaries viewer are not even aware of that problem, but yes its still exist
A second question…: Is the Vizio 75″ P Series Quantum TV 2022, worth his most overall positive critic!
Vizio 75″ P Series Quantum TV 2022, following the most Reviews a great picture with 120 Hz and some minor Reviews give the remark that the step up price is not justified!
As good comment we can mention, that the Mid-Priced Vizio P-Series Quantum has a overall excellent image quality, with very good black levels, rich contrast and plenty of brightness and a excellent video processing what anchored by a real 120 Hz panel!
A third question…: Is the Vizio P-Series OLED!
And there is more!
Vizio P-Series Quantum TVs, all are available in 65 inch and 75 inch screen!
We all know that the Quantum Colors models where the award winners in 2019 and for that reason Vizio has upgrade that by introducing its first-ever 4K OLED TVs that in 55 inch and 65 inch on date 5 January 2022!
And a fourth question…: Is the Vizio P-Series better than the Vizio M-Series!
The Vizio P-Series has fist more local dimming zones, and deliver better contrast vibrancy that between the bright and the dark area of the LED screen!
Further more you can learn in their description that Vizio P-Quantum 2019 come with a better brightness technology than the Vizio M-Series 2019 see September 2019!
Further you can see that our writer has done her best to write for you down all you need to know about VISIO P-Quantum 75 Inch, and we hope that all interested visitors have understood all!
If not don't worry because you can still put your query in the comment box here under!
If you do so you can be sure that within the 48h, after we have receive your question, we come back to you after with your answer.
Whatever we thank you all for your visit of today and we hope we see you back soon.
Support Team baladnaonline.com!
End of this Post